The Executive Guidance Committee (EGC) serves as the governing body for the Maricopa County Republicans.  The body is comprised of the elected district chairmen from each legislative district (LD) within Maricopa County.  We encourage you to locate your legislative district using the link below and then contact your local chairman, so that you can become an integral part of our grassroots effort!  As Thomas Jefferson said, "Every government degenerates when trusted to the rulers of the people alone. The people themselves, therefore, are its only safe depositories. And to render even them safe, their minds must be improved to a certain degree."
LEGISLATIVE DISTRICT MEETING SCHEDULE

LD2
Regular Monthly Meetings:
Start: 6:30pm | Sign-in: 6pm
DVUSD Innovations Center
20402 N. 15th Avenue
Phoenix, AZ 85027
Chairman Paul Carver

LD4
NO MEETINGS IN JUNE OR JULY
NEXT MEETING: AUGUST!
Meeting: 2nd Wednesday
Check-in begins at 6:30 PM
Meeting begins at 7:00 PM
6140 E Thunderbird Rd,
Scottsdale, AZ 85254
(Look for Signs directing to the building to enter)
Chairman Dan Farley

LD5
Third Wednesday, 7:00 pm
Sign-in at 6:30 PM
Crossroads UMC
7901 N Central Ave.
Phoenix, AZ 85020
Chairman Gina Maloney

LD8
Regular Monthly Meetings: 4th Tuesdays
Elks Lodge #2148
6398 E Oak St, Scottsdale, AZ 85257
Start: 6:30pm | Check-in: 6pm
Chairman Ray Michaels

LD9
Meeting Date: 4th Thursday
Charles K. Luster Building
640 N. Mesa Dr.
Mesa, AZ 85201
Chairman Michelle Masters

LD10
Meeting: 3rd Thursday. 7:00 PM
Pathfinder Academy
2906 N. Boulder Canyon
Mesa, AZ 85207
Chairman Ken Berger

LD11
NO MEETINGS IN JUNE OR JULY
NEXT MEETING IN AUGUST
Meeting: 2nd Tuesday
Social Hour at 6:00 PM
Meeting begins at 7:00 PM
Gallagher's
3220 E Baseline Road, #100,
(32nd Street & Baseline)
Phoenix, AZ 85042
Chairman Julie Mcllwain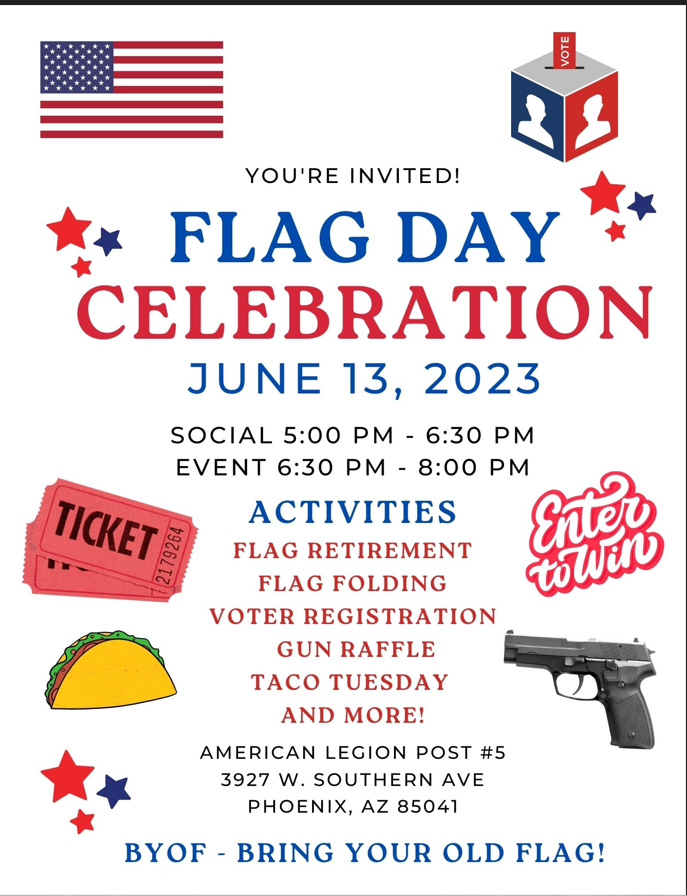 LD12
2nd Tuesday at 6:30 pm
(6:00 PM Check-in)
Generations Church - South Mountain
11832 S. Warner Elliot Loop,
Phoenix, AZ  85044
Chairman Greg Dutton

LD13
Meeting: Fourth Tuesday
Social Hour:  5:30 PM
Check-in:  6:30 PM
Meeting Start:  7:00 pm
THE FORUM
2301 S Stearman Dr,
Chandler AZ 85286
Chairman Marcia Weiss

LD14
Meeting:
3rd Monday of every month
Check-in: 6:30 PM
Meeting: 7:00 PM - 9:00 PM
950 N. Greenfield Rd
Gilbert, AZ 85234
Chairman Andrew Adams
.
LD15
Regular Monthly Meeting: Third Thursdays
Contact Chairman for Meeting Location
Chairman David Winstanley
CONTACT DAVID
az.gop.ld15.chairman@gmail.com

LD22
Second Monday, 7:00 pm
Denny's 1218 N Litchfield Rd.
Goodyear AZ
Chairman Steve Robinson

LD23
Meeting: 2nd Wednesday
Social Hour begins at 6:30 PM
Meeting begins at 7:00 PM
Estrella Foothills High School
Media Room
13033 Estrella Parkway,
Goodyear AZ 85338
Chairman Michelle Altherr

LD24
Contact Chairman for Meeting
information
Chairman Dianna Guzman

LD25
3rd Thursdays
Contact Chairman
for Meeting Information
Chairman Joe Marvin

LD26
Second Monday,
6:30 - 8:00 pm
Sovereign Grace Bible Church
2940 West Bethany Home Road
Phoenix, AZ 85017
(Park in Lot next to 30th Avenue),
Chairman Forrest Woodwick

LD27
Meeting: 2nd Tuesday
6:00 pm Doors Open
Meeting 6:30 pm - 8:30 pm
Century 21 Building
16040 N 59th Ave
Glendale, AZ 85306 United States
Chairman Carol Ayotte

LD28
3rd Monday of every month
Westbrook Village Vistas Ballroom
18825 N Country Club Pkwy.
Peoria, AZ 85382
Doors open: 5:30pm - Patrick Potluck
Call to order: 6:30pm
Chairman Lori Bango

LD29
Meeting: 3rd Tuesday
Social Hour: 5:30 PM
Meeting Begins: 6:30 PM
Salvation Army NW Headquarters
17420 N. Avenue of the Arts
Surprise, AZ 85378
Contact Chairman
Chairman Linda Migliore
November 29th Organization Meeting. Salvation Army at 5.30pm.